SYSTEMATIC SIGNIFICANCE OF LEAF EPIDERMAL FEATURES IN BRASSICACEAE OF SWAT, PAKISTAN
Keywords:
Leaf epidermis, Micromorphology, Brassicaceae, Trichome, Stomata
Abstract
Brassicaceae is taxonomically diverse and economically important plant lineage. Species identification and taxa relationship in this group often poses taxonomic problems particularly in temperate geographic regions. The present work was aimed at testing the evolutionary and systematic potential of leaf epidermal microscopic characters in Brassicaceae of Swat Pakistan. Epidermal preparations and microscopy are based on specimens of Brassicaceae collected from wild populations of the plants from different areas of the district. In total 27 species in 21 genera of the family were subjected to epidermal preparations. Ordinary epidermal cells ranged from polygonal (often), to pentagonal, hexagonal and tubular in shape (rare). Size of ordinary epidermal cells ranged from 40_373.5 µm. Three different types of stomata were examined in the studied species i-e anomocytic, staurocytic and anisocytic. Anomocytic stomata were observed only in Euclidium syriacum. Staurocytic type of stomata were found only on the adaxial surface of Nasturtium officinale. Size of stomata ranged from 15_40 µm. Size of stomatal pore ranges form (2-5) µm. Size of stomatal complex ranged between (40-200 µm). Only non-glandular trichomes were observed i-e stellate, unicellular, branched, T-shaped and Y-shaped. In 7 species unicellular non-glandular trichomes and in 6 species branched trichomes were present. In 4 speciesY-shaped trichomes were seen. Stellate trichomes were found in (Capsella bursa-pastoris and Alyssum desertorum). T-shaped trichomes were present in (Savignya parviflora). Size of trichomes ranged from (62.5-700) µm. In conclusion the micromorphologic features of leaf epidermis were sufficiently significant to distinguish closely related species.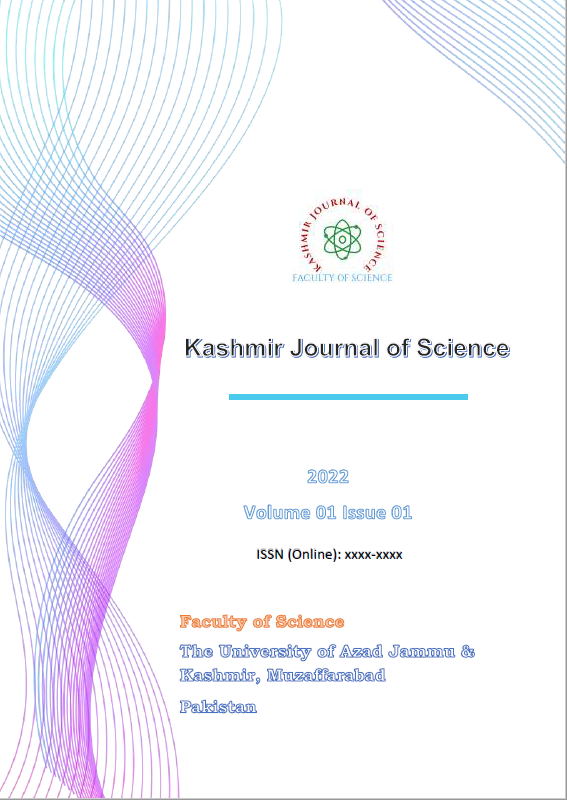 Downloads
How to Cite
Ullah, Z. (2022). SYSTEMATIC SIGNIFICANCE OF LEAF EPIDERMAL FEATURES IN BRASSICACEAE OF SWAT, PAKISTAN. Kashmir Journal of Science, 1(01). Retrieved from https://kjs.org.pk/index.php/kjs/article/view/7