Antibacterial activity of three indigenous plants against pathogenic bacteria
Keywords:
E. coli, S. aureus, S. enterica, P. aeruginosa, S. pyogene, Antibacterial Resistance
Abstract
In recent years, there has been a growing interest in researching and developing new antimicrobial agents from various sources to combat microbial resistance. Therefore, a greater attention has been paid to antimicrobial activity screening and evaluating methods. Microbial resistance is a major issue now days and is still a challenging situation for the whole globe. Scientists and researchers everywhere in the world are trying to cope this situation. Microbial resistance against drugs makes the microbes more active and more protective. To breakdown this protective zone WHO is still monitoring the drugs and modifying their formulas according to the needs. As well as new drugs from different sources have been discovered. Plants were the major source of drugs in past and also in present century. In present study three plants extracts (i.e., Carissa opaca, Ferula asafoetida and Cannabis sativa) were used against five bacterial strains named Escherichia coli, Staphylococcus aureus, Salmonella enterica, Pseudomonas aeruginosa, Streptococcus pyogenes. All the drugs were applied in the form of aqueous extract via well diffusion method and zone of inhibition were measured and photographed after 24 hours. The antibacterial effect of floral drugs in this study showed less or more activity. In conclusion, these antibacterial drugs shown killing of bacteria, on different concentrations zones of inhibition measured were of different size. All these selected plants shown a direct relation with concentration of extract, higher the concentration of extract gives larger zone of inhibition, hence
these plants extracts are beneficial with respect to their accessibility as well as economically favorable and can proved a better approach in future.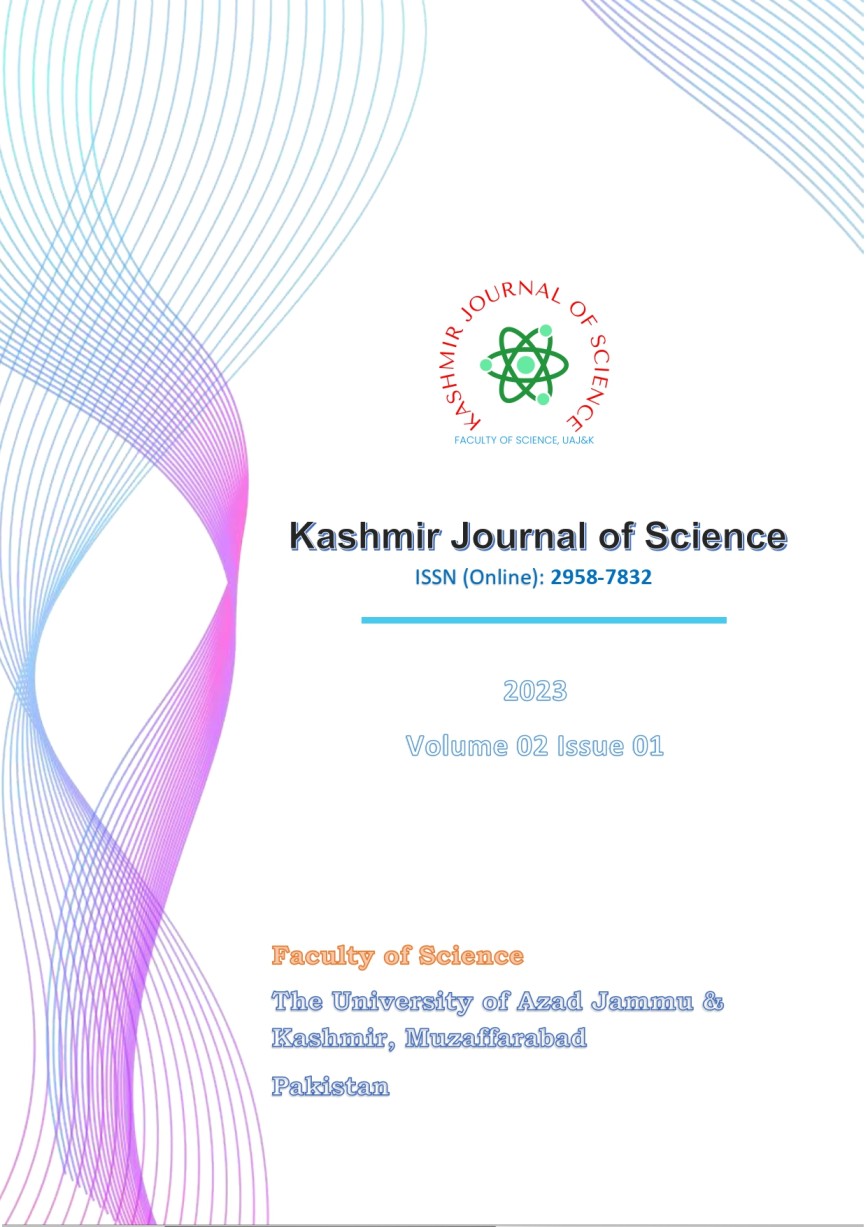 Downloads
How to Cite
Siddique, A., Shafique, A., Younas, I., Abbasi, A. A., Ali, U., Mughal, T. A., Shoukat, R., Khushal, saiqa, & Nisar, R. (2023). Antibacterial activity of three indigenous plants against pathogenic bacteria. Kashmir Journal of Science, 2(1), 60–69. Retrieved from https://kjs.org.pk/index.php/kjs/article/view/20
License
This work is licensed under CC BY-NC 4.0